Why have a Customer Single View?
"Customer Single View (CSV) help you know your customers better; It provides a quick understanding of your customer in a glance, and when integrated with CRM it helps you run effective Marketing Campaigns. It also gives you a holistic perspective about the customer for effective risk management "
What is Customer Single View?
Customer Single View (CSV) simply put is 360° view of the customer which provides a comprehensive and holistic view of the customer. CSV provides details like:
Demographics & Contact Details (90°)
Existing Product & Service Relationship (90°)
Transactional & Behavioural Characteristics Exhibited by the Customer (90°)
Predicted Future Preferences (90°)
CSV Design Philosophy:
A high-level perspective on designing a Customer Single View is shown below: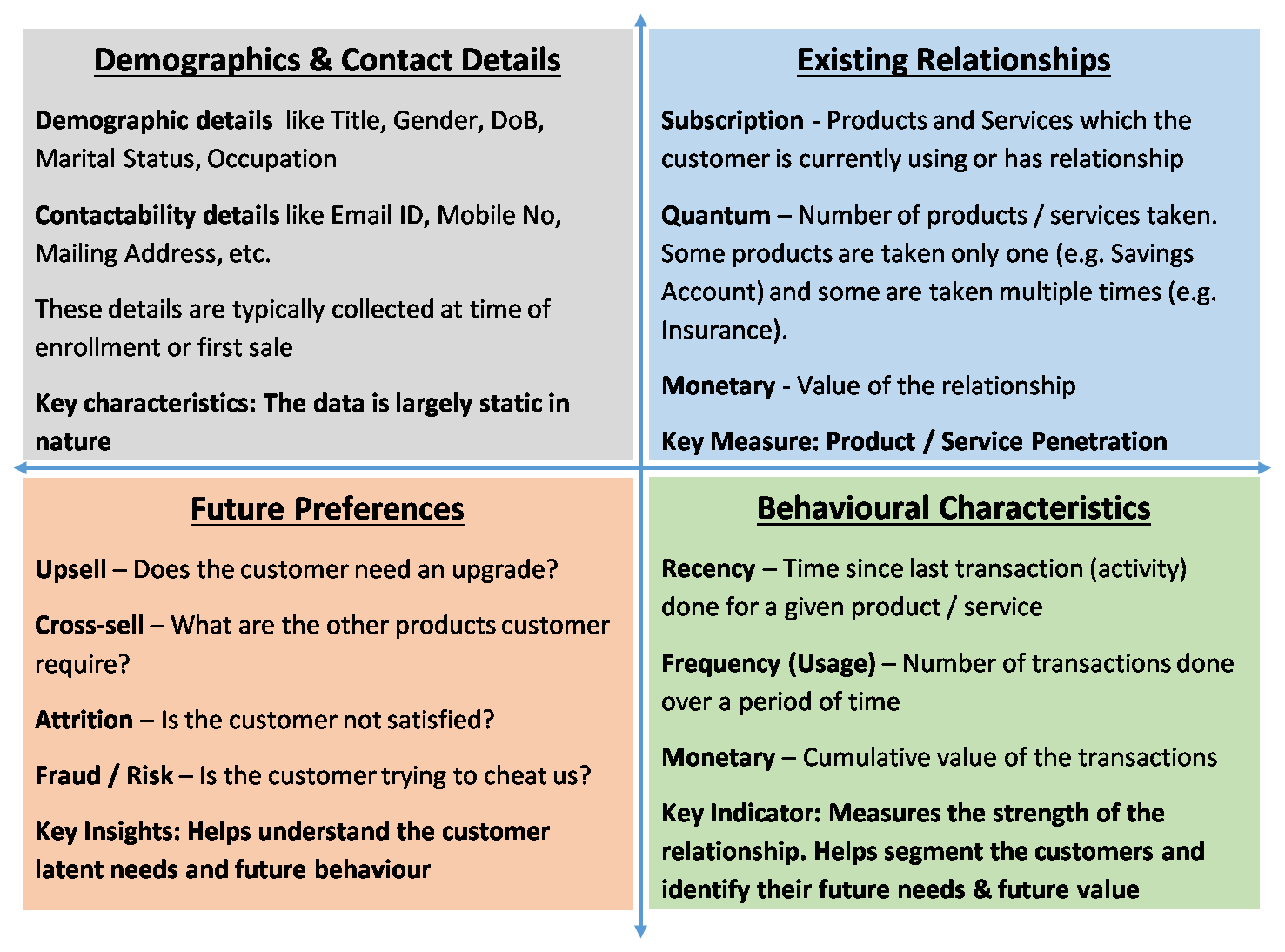 Demographics & Contact Details (90
°)
The fields like Name, Gender, Date of Birth (Age), Marital Status, Qualification, Occupation, Income, Email ID, Mobile Number, Residential Address, Office Address, Ownership of Flat, Car, and other such details forms part of Know Your Customer (KYC).
Shown below is the snippet of a customer single view for the banking domain.
Existing Relationships (90°)
The listing of all the products and services subscribed/taken by the customer. For e.g., in banking, customers can take various products and services like Savings Account, Fixed Deposit, Credit Card, Debit Card, Net Banking, Mobile Banking, Personal Loan, Education Loan, Car Loan, Home Loan, Investments, Insurance and more. It is very important to know whether a customer is making use of the various offerings of the company or not. If yes, how much is the usage or strength of the relationship in monetary terms?
The existing relationship provides the point in time (as on) status.
Behavioural Characteristics (90
°)
The behavioural characteristics of the customer is the most important of all. It reflects the character of the customers, lifestyle, his/her preferences, expectations, and what s/he wants to buy. Most of these insights about the customer comes from their transaction data. To create the CSV, one should know how to slice-and-dice the transaction data. Shown below is a sample snippet of behaviour characteristics for retail banking customer:
Tips & tricks for creating Customer Single View is to think of the various Dimensions and Measures (metrics) critical to your business.
Time: The period for which you would like to analyze the customer behaviour. In my experience, the recent most 3 months behavioural information is sufficient for most of the marketing purposes. However, for risk analysis historical data of minimum recent 6 months to 2 – 5 years may be required.
Transaction Purpose: While analyzing the transaction data, the question to be asked for each and every transaction is – What is the purpose of this transaction? For e.g., in banking, if there are any debit transactions, the purpose of the transaction could be rent payment, EMI payment, mutual fund investment, opening of a fixed deposit, cash withdrawal, insurance, travel, dining, fuel refill, and many more. These purposes have to be identified by text-mining the narration of the bank statement.
In the case of Retail, the transaction can be analyzed based on the category. The categories can be Apparel, Grocery, Staple, Fruits-n-Vegetables, Dairy Products, Meat-n-Fish, Frozen Foods, and more.
Channel Preference: Organizations are increasingly moving towards an omnichannel marketing strategy to improve their user experience and drive better relationships with their audience across points of contact. It is very important to track the channel preference of the customer. e.g in banking, customers have many channels to transact like Cash, Card, ECS, Net Banking, eWallet, Mobile Banking, and more. in retail, the channels are online website, online mobile app, brick & mortar stores. It is important to track the channel preference of the customer.
RFM Measures: The most common measures are Recency (time since the last transaction was done overall or at category/product level), Frequency (count of transactions done in a time period), Monetary (sum of the total transaction value over a given time period).
Time since the last credit or debit transaction was done.
Number of credit transactions done in month/quarter/year.
Total credit value in the account in the recent 3 months.
Averages & Ratios: Many more behavioural characteristics of the customers can be derived by calculating averages and ratios. e.g
Average Spend per Transaction – The total spend divided by the number of transactions is Average Spend per Transaction. There may be some customers who would prefer doing many small-small value transactions, whereas, there would be some customers who would do a few large ticket transactions.
Growth in Spends: Ratio of recent quarter spend by previous quarter spend.
Future Preferences (90
°)
Predict the future preference using predictive models and scorecards. The existing relationship, demographic and behavioural characteristics are ingest into the predictive model.
CSV Presentation Layer:
It is very important that you make the Customer Single View accessible to your Customer Facing Team, Sales & Marketing Team, Risk Department and other key stakeholders in an easy to understand and usable format.
Shown below is sample Customer Single View for Banking.
Shown below is Customer Single View for Telecom Domain
Final Word
Most important, the Customer Single View should enable your decision-makers with actionable insights and pointers on what to sell? and what not to sell? I hope the article would be of help to you in designing Customer Single View for your organization. For any consulting requirements, you may contact us.
Related read: Automated Bank Statement Analysis
---