Our Training Programs
Python Programming

R Programming

SQL Programming

Big Data PySpark Programming

Statistics & EDA

Data Engineering / ETL

Machine Learning Algorithms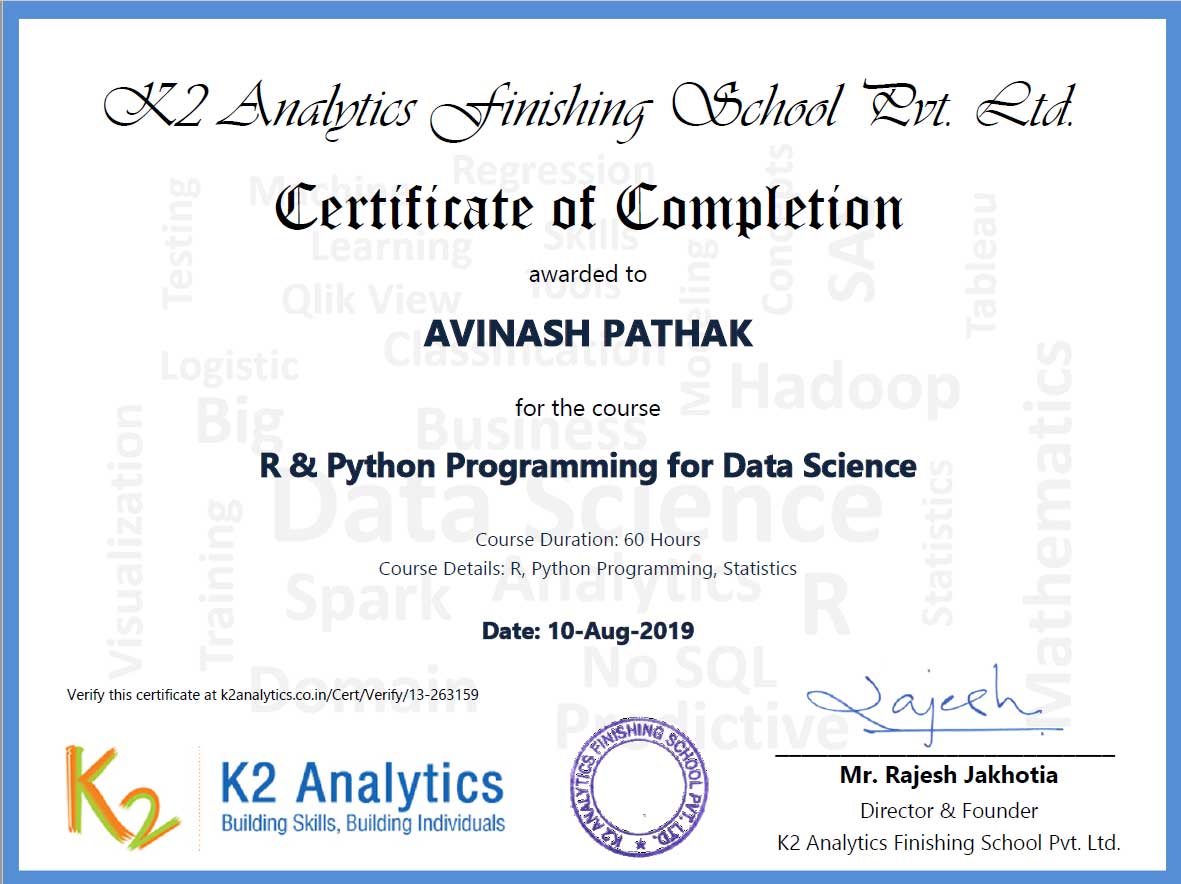 We had invited Mr Rajesh from K2 Analytics to conduct a workshop on Machine Learning and R Programming. The workshop was very well appreciated by all the participants. We are thankful for your time and the knowledge shared with us. I would like to rate the training 5 out of 5 for the training quality, content and the case-study way of explaining the topic which struck the right chord with the audience who were from the First Year and Second Year of Engineering. Thanks, k2analytics.
Within 2 months of Machine Learning course commencement, my perspective of looking at data had changed drastically. It helped me to present my existing reports and dashboards with insightful information. It is truly said "If you don't know the business, data can teach you." Complex terms were explained in a very elegant and simpler way to make it very easy to understand. The industry experience regularly shared by the trainer helps a lot. Many thanks to K2 Analytics!
I think joining K2 has been one of the best decision i have made in my career. Rajesh sir is very passionate instructor with immense knowledge in most demanding domain of this era and has great teaching skills, he keeps it simple for us to understand any complex concepts. I joined here with level-0 analytics skills but now after machine learning with R session i think I am ready to transform myself into analytics domain. I would highly recommend K2 Analytics to those who aspire to make career in Analytics domain.
4000+ STUDENTS POSITIVELY IMPACTED
100+ HOURS OF TRAINING VIDEOS
What is the median salary of a Data Scientist in India ?
According to the report, the median salary being offered for analytics jobs in India is INR 11.5 lakhs/annum.
What is Data Science ?
Data science is a multi-disciplinary field that uses scientific methods, processes, algorithms, and systems to extract knowledge and insights from structured and unstructured data.
Is Data Science a good career option ?
A Big YES, Data Science is a good career option. The U.S. Bureau of Labor Statistics reports that the rise of data science needs will create 11.5M job openings by 2026. According to IBM, the demand for Data Scientists will increase up to 28% by the year 2020.
Best way to learn Data Science as a beginner ?
Make sure you are guided by an experienced Professional Faculty in DATA SCIENCE.